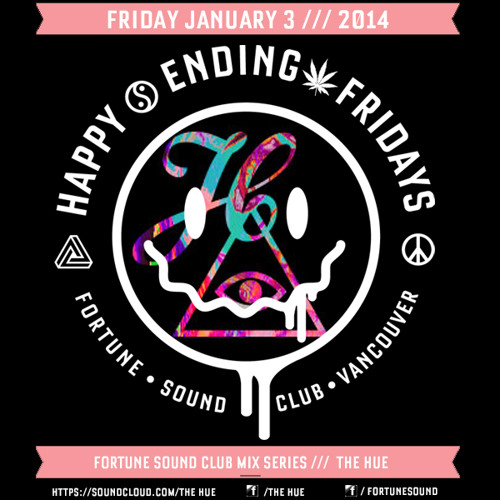 Friday January 3rd Happy Ending Fridays presents New Friends Party with 8prn & Heartbeat(s) (ASL Club), Rich-A, Engrish, Srgnz, Askyurself x Sycamore Archive Fashion Show, in the Livestock Room with The Hue and visuals by Chase Porter and karaoke party with Rap Goofz
Event Page: www.facebook.com/events/500692603301333/
THE HUE - KEMPEH, HUSTLE & HIGH TOONES
Tracklist:
KEMPEH 
Chromatics - Cherry 
Schoolboy Q - Man Of The Year 
Partynextdoor - Break From Toronto 
50 Cent - Thug Love Feat. Destiny's Child 
Brandy - Top Of The World Feat. Mase 
Tatyana Ali - Daydreamin 
Michael Jackson - You Rock My World (Remix) Feat. Jay Z 
Usher - U Remind Me (Remix) Feat. Method Man & Blu Cantrell 
Mariah Carey - The Roof Feat. Mobb Deep 
112 - Only You Feat. The Notorious B.I.G & Mase 
Allure - Head Over Heels Feat. Nas
HUSTLE 
Waldo - N 
IAMNOBODI - Dancing In Eden 
wakeandbeats - CVR Story 
Young Dro - FDB (Lakim Mix) 
IAMNOBODI - Needs & Wants & Bad Habits 
Stwo - Syrup 
Childish Gambino - V. 3005 
IAMNOBODI - Ecstatic 
Waldo - Purple Heart 
S.F.T. - Too Late 
Mr. Carmack - p.y.p. (carmack edit) breezy lovejoy
HIGH TOONES 
Dom Kennedy - Still Callin' ft. Teeflii 
YG - My Hitta 
Pusha T - Suicide 
Drake - Come Thru 
Lantana - All Hustle, No Luck 
Yo Gotti - King Shit ft. T.I. 
2 Chainz - Used 2 
Eric Bellinger - I Don't Want Her ft. Problem
Happy Ending Fridays features the world's best on rotation alongside local superstars. Happy Ending Fridays feature Hedspin (Eh!Team DJ's), Rico Uno (The Freshest), Marvel (The Freshest), Sincerely Hana (Glory Days), Cherchez (Rad Times), Brendan Butter (Livestock), GMAN (Timebomb, Livestock) with the world's greatest Dj's on rotation. No matter what style or genre of music, Friday nights promise to put forward only the best and meanest flavour for your ears for a truly happy ending to the week. This is not the joint to come looking to hear commercial music we'll leave the radio and Granville Street to bring you that.
Join the Happy Ending Fridays group:
www.facebook.com/groups/106987715990186/
Join the Fortune Sound Club group:
www.facebook.com/groups/95839027632/
Like the Fortune Sound Club page:
www.facebook.com/fortunesound
Check our upcoming events:
www.facebook.com/groups/958390276…150338991382633/
Follow us on Twitter
@fortunesound
Follow us on Instagram
@fortunesound