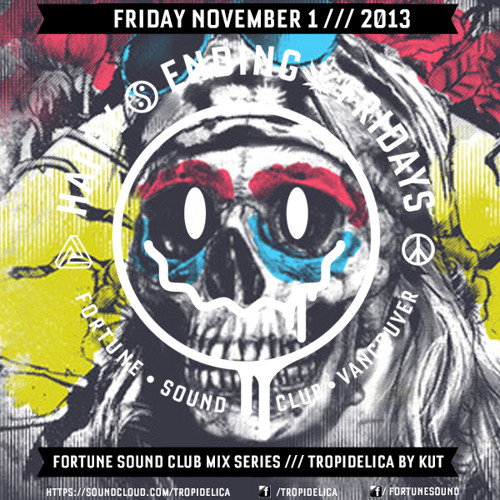 Friday November 1st Happy Ending Fridays presents...
KUT GOMEZ
@tropidelica
www.facebook.com/tropidelica
DJ FUNERAL • REUP DJS • DUBBLE DUTCH • MANDAI • GRLFRNDs • LEER • SAD GIRL
Event Page: www.facebook.com/events/316335048494801/
Happy Ending Fridays features the world's best on rotation alongside local superstars. Happy Ending Fridays feature Hedspin (Eh!Team DJ's), Rico Uno (The Freshest), Marvel (The Freshest), Sincerely Hana (Glory Days), Cherchez (Rad Times), Brendan Butter (Livestock), GMAN (Timebomb, Livestock) with the world's greatest Dj's on rotation. No matter what style or genre of music, Friday nights promise to put forward only the best and meanest flavour for your ears for a truly happy ending to the week. This is not the joint to come looking to hear commercial music we'll leave the radio and Granville Street to bring you that.
Join the Happy Ending Fridays group:
www.facebook.com/groups/106987715990186/
Tropidelica takes you on a sensual trip that begins in a forbidden rural area of northen Mexico and teleports you throught time and space exploring the boundaries of Mambo, Afro, Cumbia, Latin TV Pop, Psychedelia and Future Dance.
Tracklist:
Cumbia Valledupar - Luis Enrique Martinez
Cumbia y Ron - Orquesta Italian Jazz
Caminando Despacito - Chicken y sus Comandos
Mexico 70 - Perez Prado
Sonido Amazonico - Los Mirlos
Fiesta de Negritos - Lucho Bermudez
El Mecanico - Edmundo Arias
Juana Patino - Los Corraleros de Majagual
Bombo y Maracas - Climaco Sarmiento
Arroz con Coco - Lucho Bermudez
Dejala Correr - Banda Hijos de la Nina Luz